ImmersaDesk2™
January 1st, 1996 - May 1st, 1997
Categories: Devices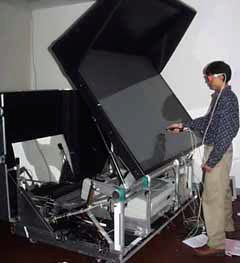 About
The development of the ImmersaDesk2™ system in 1996 focused upon a number of design issues not addressed by the initial ImmersaDesk™ system. The primary design goals of this system were to accommodate shipment by air, allow "rapid" deployment and accessibility.

Essentially, the ImmersaDesk2™ is a dual purpose ImmersaDesk™ contained within a single large flight case. The press of a button activates the conversion of viewing angle from desk (45 degree) to vertical screen display, allowing for use as a traditional A-V presentation device, as well as an immersive virtual reality system. The display dimension is 83" diagonal, 1.3 ratio, using a rear projected low gain screen. All mechanical articulations are aided and checked by gas struts. The chassis supports an Electrohome Marquee projector located between two 19" rack bays, which house audio, tracker and stereo graphics systems. With minimal modifications, a deskside Onyx2 can be housed within the package. Ascension's SpacePad currently provides user's head and hand tracking, though alternative tracking solutions are being evaluated.

The ImmersaDesk2 also uses the same CAVE™ library software as is used in the CAVE™, to generate accurate perspective projection, and to read tracker and input devices. The CAVE™ software library is available from VRCO.

The ImmersaDesk R2 system is the commercially available product from FakeSpace Systems Inc. derived from EVL's ImmersaDesk2' prototype system.