Preliminary Examination Announcement: "Multi-view, multi-modal speech+gesture interaction in large display environments"
September 17th, 2019
Categories: Applications, MS / PhD Thesis, Software, User Groups, Visualization, Natural Language Processing, Human Computer Interaction (HCI)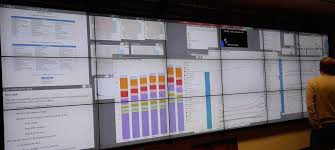 About
Ph.D. Student: Jillian Aurisano

Date: Tuesday, September 17, 2019
Time: 11:00 am
Location: Room 3036, Engineering Research Facility

Committee:
Andrew Johnson (Chair)
Debaleena Chattopadhyay
Barbara Di Eugenio
G. Elisabeta Marai
Rick Stevens (Argonne National Laboratory, University of Chicago)

Abstract:
Analysis of large, complex datasets stands to benefit from environments that permit users to view and juxtapose many views of data. Large, high-resolution environments are capable of showing many related views of data, but interaction with these views poses significant challenges in visual and interaction design. In this talk, I will present work toward "multi-view interactions&rdqo; that enable users to create, organize and act on many views at once, through multi-modal speech+gesture queries in large flexible canvas environments. The goal is the enable users to rapidly and efficiently generate sets of views in support of multi-view analysis tasks, organize these views to reflect changing analysis goals, and operate on sets of views collectively, rather than individually, to efficiently reach large portions of the 'data+attribute space'. I will implement and evaluate this approach within two domains and two user communities: City of Chicago data for informed citizens and deep learning predictions data for precision medicine in cancer.