Spring 2005 Seminar Series
January 10th, 2005 - May 6th, 2005
Categories: Animation, Devices, Education, MFA Thesis, Multimedia, Networking, Sound Art, Video / Film, VR Art, Web Art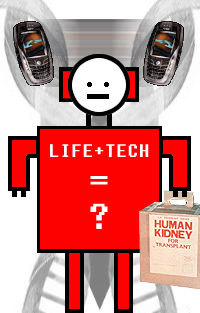 About
Spring 2005 is here and the AD 508 Seminar Series is well under way!

This semester Franz Fischnaller will be leading the class into discussions about ten technologies that have dramatically changed the American lifestyle. Paul Boutin believes that from all the new technologies that have appeared in the past half century, ten high-tech breakthroughs have stood the test of time because of their revolutionizing effect on the way of American life. These ten are:

Digital Media
Electronic Funds Transfer
Genetic Engineering
Mobile Phones
Nuclear Power
Organ Transplants
Personal Computers
Robots and Artificial Intelligence
Space Flights
The Internet

Students participating in the AD 508 Seminar will be presenting on one of these topics each week.

By the end of the semester, the participants of the AD 508 Seminar will benefit from discussions on these topics and also others that include electronic media, visualization, and artistic concepts.