Automated Content Organization on Large High-Resolution Displays
February 9th, 2009
Categories: Human Factors, MS / PhD Thesis, Software, User Groups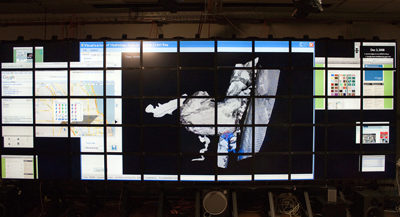 About
EVL / CS PhD Candidate Ratko Jagodic presents his preliminary proposal Automated Content Organization on Large High-Resolution Displays, February 9, 2009.

Abstract
Large high-resolution displays, as opposed to desktop environments, are better suited for dealing with an ever-increasing amount of information we have to assimilate. Their primary benefit is the ability to display multiple pieces of information simultaneously. However, this benefit will not be achieved without utilizing the available resolution efficiently. This involves organizing information in ways that its spatial arrangement can provide new insights into data. On the other hand, manually organizing a significant amount of information can prove to be tedious, time consuming and in the end be detrimental to the task at hand.

To address this problem I propose an automated organization scheme that will help users manage and organize windows and therefore allow more time to be spent on the task and less on the tool itself. However, little is known about how users might want to organize information when presented with such a drastic increase in resolution. Therefore, a series of observations of real-world users are first needed to gain an insight into the various organization techniques people resort to on such displays. From these observations, I will attempt to identify most commonly used window organization actions, the actions that take longest to complete and constraints that users implicitly or explicitly impose. These actions will then be prioritized and implemented as a constraint-based system that can be tailored to suit a specific usage scenario.