Popular Science's Future Of Immortality
October 19th, 2009
Categories: Applications, Government, Human Factors, Multimedia, Museums, Software, Tele-Immersion, User Groups, VR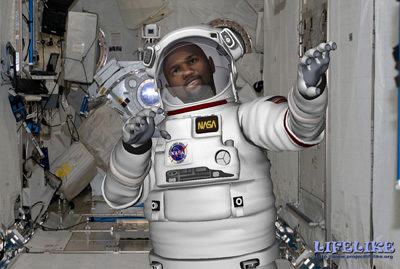 About
October 19, 2009 - The Discovery Network's Science Channel airs the series "POPULAR SCIENCE'S FUTURE OF." Hosted by author, comedian, writer and pundit Baratunde Thurston, each episode examines how one important characteristic of human life will fundamentally change within our lifetimes. Last week, on October 12, 2009, the "Popular Science's Future Of Immortality" aired, featuring "Project Lifelike," research being conducted by the University of Illinois at Chicago (UIC) Electronic Visualization Laboratory and the University of Central Florida (UCF) Intelligent Systems Laboratory and Computer Architecture Laboratory, and funded by the National Science Foundation (NSF).

Through in-depth interviews with scientists and hands-on experience with breakthrough research and prototypes, the TV show guides viewers on a deep exploration of the science and how it will fundamentally evolve within our lifetimes. UIC faculty Jason Leigh and UCF faculty member Ron DeMara, and several others from EVL, are featured on the Science Channel program. A 2-minute preview is available on the Science Channel website. While the "Immortality" show has already aired in its entirety on prime time, check your local listings for reruns.

See the a clip from "POPULAR SCIENCE'S FUTURE OF" program

MORE ON PROJECT LIFELIKE… UIC and UCF are developing a lifelike avatar of Dr. Alex Schwarzkopf, a recently retired NSF program officer who founded and directed the NSF Industry / University Cooperative Research Center (I/UCRC) program. Even if it were possible to document his wealth of knowledge in volumes of tomes, quickly accessing information would be cumbersome and difficult. Instead, NSF wanted to preserve his legacy by developing a natural-looking computer representation of Alex (an avatar) as a portal to an intelligent decision support system, called AskAlex. This system would have the AlexAvatar intelligently respond to user questions about I/UCRC via spoken language, with realistic inflection and visual expressions.