Visual Analysis of Social Behavior of Wild Animals
August 16th, 2008 - August 16th, 2009
Categories: Applications, MS / PhD Thesis, User Groups, Visualization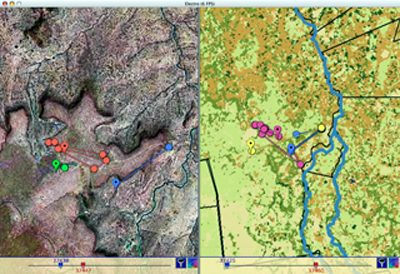 About
Understanding the social interaction of wild animals in the context of their ecology is imperative to the conservation of endangered species. Our ability to observe individuals in the wild has increased exponentially with the availability of GPS enabled sensor networks. Yet, our ability to qualitatively analyze these data is still lagging.

The goal of this research is to develop a series of new interactive visualization methods that will allow scientists to better analyze the behavior of wild animals in order to understand how these populations interact in the wild, make use of habitat, minimize predation risks, and assess the effect of human activity on their survivability.

EVL MS graduate candidate, Khairi Reda is collaborating with the Computational Population Biology Lab, University of Illinois at Chicago, and Equid Research and Conservation, Princeton University to develop ZebrasVis, an interactive visualization tool that will assist scientists in their analysis.