Franz Fischnaller Lectures on VR and Architecture
February 4th, 2004
Categories: Applications, Architecture, Cultural Heritage, Education, Networking, VR Art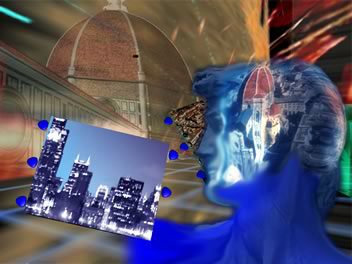 About
Franz Fischnaller is scheduled to hold a lecture about VR and Architecture and speak about his projects related to architecture. The lecture is part of the School of Architecture's new initiative called Wednesdays @ One, which hopes to expand and enrich the relationships with the professional community, with colleagues from diverse disciplines, and with projects of note in the Chicago area.

PART I
1.) Why Virtual Reality is an intelligent tool for architecture and design.

2.) New concepts and challenges in architecture: How digital media and Virtual Reality can be incorporated in architectonic structures and buildings?

Designing high tech intelligent multi-purpose buildings
Incorporating and integrating digital media and high-end technology into design and architecture
Exploring new forms in design and architecture
Implementing innovative technological expressive forms
Overlapping functionality and fantasy in its highest expression with a new system of living and interacting with the impossible
Examples: "Cyber Space Theme Park", "Stargate Hotel", "Space Entertainment Center", "Space Atrium Hotel", Space Hotel, designed by Franz Fischnaller

PART II 3.) Presentation of Virtual Reality applications in the new VR facility of the Art Department.