Presentation by Sabrina Raaf
December 3rd, 2003
Categories: Animation, Devices, Multimedia, Video / Film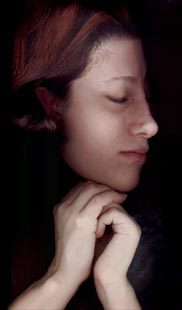 About
Sabrina Raaf is a Chicago-based artist who works in both experimental sculptural media and photography. She is a producer of creative machines - machines that independently make art when cross-pollinated with human interaction.

Her work will be exhibited in 2002 in the Here and Now show at the Chicago Cultural Center, in Postflesh at California State University in Sacremento, CA, and Sense Data at the Painted Bride Center in Philadelphia, PA. She exhibited recently in the Sculpture in Chicago Now exhibition (2002) curated by Adam Brooks and Cory Postiglione, at the Fassbender Gallery in :::Interface: Exploring Possibilities:::, 2001, and at the Block Museum in the Immersive Art Symposium, 2001. In 1999 she exhibited at the Corcoran Gallery of Art (Washington, DC) and at the Chicago Cultural Center. She is the recipient of a 2002, Creative Capitol Grant in Emerging Fields and an Illinois Arts Council Fellowship (2001).

She has been reviewed in the Chicago Tribune Sunday Magazine, Leonardo Magazine (MIT Press), Contemporary Visual Arts magazine, The Washington Post, The New Art Examiner, The City Paper, and The Chicago Reader. She received an MFA in Art and Technology from the School of the Art Institute of Chicago in 1999.

Sabrina is currently a tenure-track professor in the Photography Department of Columbia College in Chicago teaching multimedia applications and theory.

Sabrina will talk about her work as well as art and technology in the gallery system and specifically her views as a curator in addition to survival skills for new media artists in the areas of gallery exhibitions and grants writing.